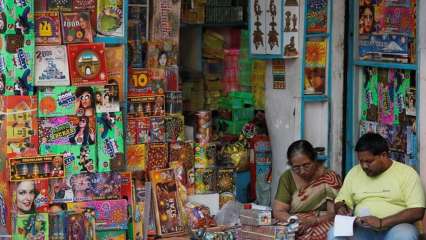 The National Green Tribunal (NGT) on Monday imposed a complete ban against sale or use of all kinds of firecrackers in Delhi NCR from midnight today till November 30 in wake of rising air pollution and coronavirus cases. The ban will kick in from midnight of November 9-10 to midnight of November 30, 2020.
A bench of the NGT, headed by its chairperson Justice Adarsh Kumar Goel, directed that the order will also apply to all cities and towns in the country where the average of ambient air quality during November (as per available data of last year) falls under 'poor' or worse category.
"The cities/towns where air quality is 'moderate' or below, only green crackers be sold and the timings for use and bursting of crackers be restricted to two hours during festivals, like Diwali, Chhath, New Year/Christmas Eve as may be specified by the State," the order read.
Following the announcement, the Haryana government also restricted firecrackers from 8 pm to 10 pm on some festivals.
"Use of firecrackers allowed only between 8 pm till 10 pm on Diwali and Gurupurab, and 11.55 pm till 1230 am on Christmas and New Year's eve," an order from the Haryana government read.
The NGT had recently sought response of the Union Environment Ministry, the governments of Delhi, Haryana, Uttar Pradesh, and Rajasthan, the Central Pollution Control Board, the Delhi Police Commissioner and the Delhi Pollution Control Committee on whether the use of firecrackers should be banned from November 7-30.
Last week, the NGT issued notices to 23 states and Union territories regarding the imposition of a ban on firecrackers in a bid to protect the health of the vulnerable groups amidst the double whammy of pollution crisis and the COVID-19 pandemic.
The tribunal had also said that it may have to consider directions to prohibit the use of firecrackers during the period air quality is beyond a threshold to protect the health of the vulnerable groups.
Meanwhile, Delhi Police on Sunday said that all licences issued for the sale of firecrackers in the national capital have been suspended and further action will be taken on National Green Tribunal's (NGT) directions.
"All licences issued for the sale of firecrackers have been suspended and further action will be taken on NGT directions," tweeted the official Twitter account of Delhi Police.
Police also registered seven cases of selling firecrackers and eight cases of 8 cases of bursting crackers despite the ban.